The smALL FLAGs Cascadia (aka "Doug") Flag
Headquartered as we are in the "heart of Cascadia", it seems fitting for us to feature this product: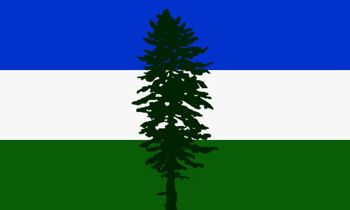 (Kindly click to order 3x5' or 2x3' or 12x18".)
For those wanting a flag representing their connection to the Pacific Northwest,

offers this fine Nylon flag (available in 3x5' or 2x3' or 12x18"), which has become a symbol for the Cascade Commons as well as the Republic of Cascadia (The Bioregional Cooperative Commonwealth of Cascadia). From the latter website, regarding the Doug:
The blue represents the unpolluted sky, the Pacific Ocean and the rivers and lakes that flow in Cascadia. The white represents the clouds and snow. The green represents the forests and fields. The conifer tree found in a variety of species throughout the bioregion stands in defiance of storm, fire and Man. The conifer tree as the Douglas Fir, the Redwood, the Cedar, the Spruce, the Pine and all other Evergreens [standing the test of time].
Because of the unique production situation of this design, we normally only manufacture these flags when we have a total quantity of twelve flags on order. However, we currently have a few in stock. They may be purchased by clicking either 3x5' or 2x3' or 12x18".

Also available for Cascadians are the official, highest quality Doug Patches.
Depending on the amount of interest shown, we are also considering manufacturing other Cascadian items: desk flags, pins, etc. Again, please write us with your comments.